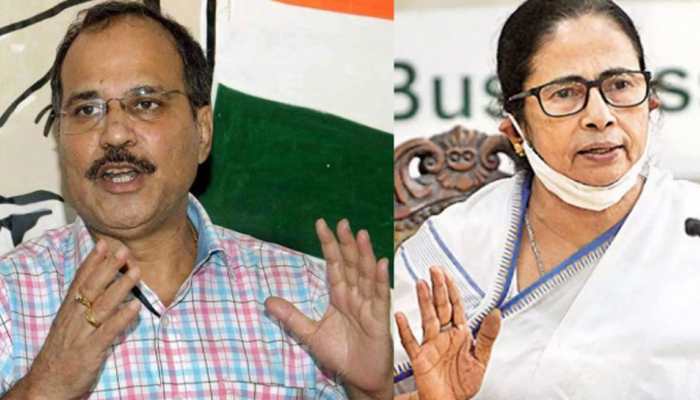 Srinagar: Congress leader Adhir Ranjan Chowdhury has made a scathing attack on West Bengal Chief Minister Mamata Banerjee, saying the Trinamool supremo is a "tout".The senior Congress leader made these remarks in Srinagar after arriving here to join Rahul Gandhi`s Bharat Jodo Yatra. It may be noted that the Congress party invited leaders of 21 political parties to the closing ceremony of the Bharat Jodo Yatra in Srinagar on January 30.
However, there has been no positive response from the Trinamool Congress regarding the invitation to join the Yatra. When asked if Congress would reach out to Mamata Banerjee for opposition unity, Adhir Ranjan Chowdhury said, "Our party has invited everyone (at the end of Bharat Jodo Yatra). All those who want to fight against Modi ji should be mobilized. Ask Mamta ji why Mamta ji is not coming. They are doing Dalali. We do not know what is the nexus between Mamata Banerjee and Bharatiya Janata Party (BJP)-led central government.?''
Chowdhury went on to say that "Mamata has been working as a tout." Chowdhury`s remarks came at a time when political parties, in the run-up to the Lok Sabha elections, are formulating strategies for the upcoming polls.
The Opposition, which is looking to oust Prime Minister Narendra Modi-led government in the 2024 Lok Sabha polls, seems to be running on diverging tracks with the Congress launching its own campaigns to reach out to the people and various other leaders speculated as the aspirants of prime ministerial contest holding their separate rallies.
The latest in this episode was evident which suggests disunity in the Opposition was a mega rally by Telangana Chief Minister Chandrashekar Rao-led Bharat Rashtra Samithi (BRS) which was attended by several political parties at Khammam earlier this month followed by Trinamool Congress state general secretary Kunal Ghosh`s allegation on Congress. 
The prominent names who were missing from the stage of KCR`s mega rally were Mamata Banerjee who is advocating for a united Opposition, and Bihar Chief Minister Nitish Kumar, who though has denied having any Prime Ministerial ambitions on several occasions, is also being seen as part of the aspiring flock.
Ghosh alleged that TMC chief Mamata Banerjee batted for a coordination team between Opposition parties and a joint program in other states, however, Congress "did not respond to it" in its attempt to "move alone".
(With Agency Inputs)