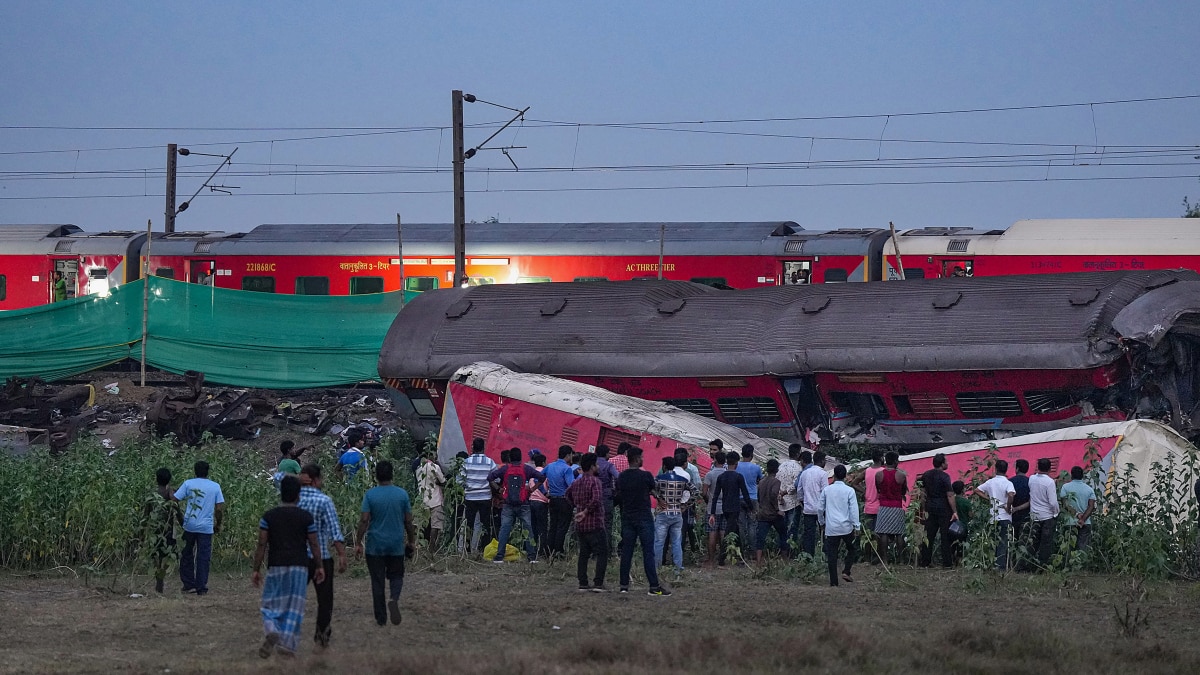 Almost a week after a horrific three-train clash in Odisha's Balasore claimed 288 lives, locals near the Bahanaga Bazar railway station have raised concerns on foul smell emanating from a damaged coach. This prompted a reply from railway officials and they attributed the stench to rotten eggs and not "human bodies", putting to rest any lingering fears of unattended casualties.
People living near the railway station expressed apprehension that a foul smell was coming from a coach left there and some bodies might still have been there, news agency PTI reported. After locals raised an alarm, the railway officials, with the help of the state government, conducted a search.
'ROTTEN EGGS, NOT HUMAN BODIES'
"It was found that rotten eggs, and not human bodies, are emitting a foul smell in the station. We had got site clearance from NDRF twice. Around three tons of eggs were being transported in Yeshwantpur-Howrah Express in the parcel van," South Eastern Railway CPRO Aditya Kumar Chaudhary told reporters.
"All the eggs were rotting and a foul smell was coming. We have removed the eggs in three tractors from the accident site," Chaudhary said.
ODISHA TRAIN TRAGEDY 
On June 2, in one of the deadliest railway accidents in India in recent times, the Coromandel Express crashed into a stationary goods train, derailing most of its coaches. A few of those coaches toppled over the last few coaches of the Bengaluru-Howrah Express which was passing by at the same time. As many as 288 people have been killed and more than 1,200 people have been injured in the horrible triple-train crash in Balasore.
ALSO READ | Train accident: Odisha consults neighbours as 82 bodies remain unidentified
Various disturbing and distressing visuals from the accident spot emerged, which showed limbless bodies and bloodbaths on the railway tracks. Closer to the ground, mangled steel and bloodied and disfigured bodies lay enmeshed with each other, creating a grotesque sight.
While above 200 bodies have so far been identified and handed over to their families, around 80 still remain unclaimed and unidentified at Bhubaneswar AIIMS morgue.
Railway minister Ashwini Vaishnaw claimed that it was a "criminal act" in which changes were made to the interlocking system. A CBI team has begun an investigation into allegations of criminal negligence leading to the Balasore railway accident.
The recommendation of the CBI probe by the Railways was made after a preliminary inquiry flagged possible tampering with the electronic interlocking system, which detects the presence of trains, and officials suspected "sabotage" behind the tragedy. 
The CBI took over the FIR registered by the GRP (Government Railway Police) Cuttack on June 3 under IPC sections 337, 338, 304A (causing death by negligence) and 34 (common intention), and sections 153 (unlawful and negligent action endangering lives of Railway passengers), 154 and 175 (endangering lives) of the Railways Act.
The FIR stated many deaths were due to injuries caused due to the collision and electrocution after coming in contact with an overhead low tension line.
(With PTI inputs)
ALSO READ | Scenes of devastation after 3 trains collide in Odisha's Balasore